Guitar Business is the Channel for the Business of Guitar. Our target audience covers a wide range from players to industry folks. Our goal is to provide relevant and timely information about guitar-related companies and organizations that people need to know about.
Today, as we bring Guitar Business online officially, we're in the midst of a national and worldwide crisis. A pandemic that has affected the lives of billions as well as millions of businesses. And that includes the business of guitar. So our initial sole purpose is to bring you important Status Updates from those companies and organizations so you'll know who's doing (or not doing) what and how.
We will recover from this… and when we do, which hopefully will be soon, we'll continue to cover that as well.
As some of you may know, Guitar Business was originally intended to be something else. That didn't happen, but the platform has been primed and ready to go for nearly two years. Sometimes it takes a while for the true purpose of things to become clear. We think now that time has finally come.
Our goal has always been to cover the world of guitar from the business perspective. That's what we do at Guitar Business Media. We strive to be informative, educational, enlightening and maybe enjoyable. But above all else, we're about value. Value is an integral part of business. Without it, you have no business. As a reader, contributor, advertiser or any other stakeholder, you must get some kind of value in one form or another from the experience or you won't come back. We're dedicated to providing that value.
About the Founder/Publisher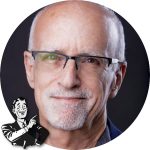 Jeffrey D Brown has spent over 35 years in media-related positions in publishing, advertising and events including over a dozen years as a successful magazine publisher/group publisher at major media companies. With literally scores of magazines, books and other publications under his belt, combined with many years working in the world of guitar, Guitar Business represents another logical move in a long and engaged career.
In addition to running Guitar Business Media, Jeffrey D Brown (who started his career in radio) has produced and hosted 77 episodes of Guitar Business Radio, the Podcast for the Business of Guitar. The show is temporarily on hiatus but may start up again at any moment. Don't hold your breath (because it's not a good idea), but it may happen. Maybe. Or not. What do you think?